Union Project
Union Project is an integrated system for managing, monitoring and analysing business activities that includes tools regarding particular solutions in companies.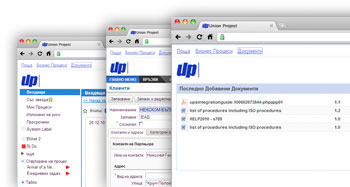 Union Project is a web-based complex product combining a multitude of software solutions that enable the business to effectively manage, monitor and analyse activities. It makes possible consolidation of bookkeeping of existing business practices and processes by combining already existing business practices and processes.
The need for such a product arises out of the fact that most companies use many and different software systems that work without any direct interrelation and without any data consolidation wherefrom traceability and analysis of data are being impeded thus resulting in a waste of time and resources (financial, human and material).
---
Cost efficiency and mobility
In order to be cost effective and sufficiently flexible, Union Project is based on an open source and web-based software in order to provide mobility, flexibility and cost efficiency (low prime cost).
ISO Compatibility
Completely compatible with the International Standards (ISO, etc.) and assisting proper implementation thereof in companies and state institutions.
Exchange of Information (Connectors)
It is capable of relating and exchanging information with other software applications used to date in companies (financial, warehouse, human resources, project management, etc.).
Google Integration
Union Project is capable of integrating with services and products offered by Google thus allowing better work mobility and efficiency, for instance it enables online editing of documents and charts through Google Docs.
Categorisation
We made an orderly and effective mechanism for searching in more than 18 000 categories of products and services aiming at the standardised and quick implementation, placing and description of their properties into our system.
Functionalities
Business Processes Management
Clear user interface
Multilingual support
Labels and categories
Easy integration
Real-time monitoring
Task management
Task assignment
Document Management
Version control
Comments about documents
Complete text indexing
Conversion into PDF
Check-in/Check-out control
Web interface for a quick examination
Full traceability of document's versions (log)
Searching in documents' contents
Customer Relationship Management (CRM)
Product catalogue
Price lists
Supplier management
Quotations
Sale orders
Purchase orders
Contracts
Invoices
Shared calendars
Integrated mail client
E-mail templates
Outlook Plug-in
Office Plug-in
Comprehensive search
ERP
Quotation requests
Follow-up of merchandise
Accounting
Manufacture (working centres)
Purchase orders
Automated orders
Budgets
Supply planning
Inventory control
Warehouse expenses
Fixed assets
Capacity planning
Products
Warehouse transfer
Invoice control
Analytics
Price lists
Human resources management
Cost centres
Planning and dealing with assignments and tasks (human and material resources)